---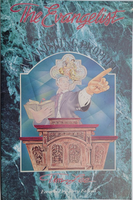 Shipping within the Continental US, Alaska, and Hawaii is free.
The Evangelist | A Vanishing Prophet by Tim Lee

This book has practical information about how to be an evangelist in todays world.  Evangelist Tim Lee has been an evangelist for 45 years as of 2022.

What others are saying?
"This book does not pull any punches! Read this book and you will know the heart of Tim Lee."
- Dr. Lee Roberson - Evangelist - Chattanooga, Tennessee
"With gratitude to God for this book he has written, I commend the volume of Evangelist Tim Lee."
- Dr. W. A. Criswell - Senior Pastor First Baptist Church - Dallas Texas
"It has information that will be tremendously helpful to pastors and evangelists alike."
- Dr. Gary Coleman - Pastor Lavon Drive Baptist Church - Garland, Texas
"It is an oasis of information in a desert of evangelistic ignorance."
- Dr. Bailey Smith - Evangelist - Atlanta, Georgia